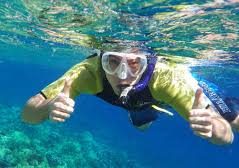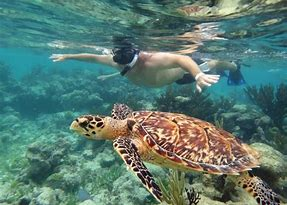 Second-Longest Barrier Reef in the World … Great Mayan Reef
Makes for absolute best snorkeling in Riviera Maya!
Snorkeling in the Riviera Maya: the only time spitting is acceptable. Smearing some saliva around the glass of a snorkeling mask to prevent it from fogging underwater works just as well as chemical defoggers and is better for the sea and all it's living creatures.
Australia boasts the world's largest barrier reef, but Mexico's state of Quintana Roo is one of several in the Americas on the doorstep of the world's second largest. It stretches from Honduras past Guatemala and Belize up the coast to Playa Del Carmen and the Mayan Riviera.
Our tours take you to view the abundant sea life under the waves off the coast of Playa Del Carmen and Mexico's Riviera Maya, where the underwater world beckons and you are able to view sea turtles, squid, hundreds of multi-colored fish species and amazingly beautiful coral reefs.
It's mandatory to snorkel with a life jacket in this area, so novices can feel extra confident without being singled out.
Fishing Charters of the Mayan Riviera has snorkel gear and life jackets available on board all our boats, or if you prefer, bring your own with you.
Want to mix your tour with some fishing or sight seeing – no issues – we can accommodate you . Just let us know at time of booking – shoot us an email from our contact page.
Wow – snorkeling at Ina' Reef!